Road to Adoption
IMPORTANT MESSAGE TO OUR ADOPTERS!
The majority of greyhounds racing in the US were racing in Florida until all of those tracks closed at the end of 2020. Before the tracks closed there were not enough greyhounds retiring to supply all the adopters and adoption groups that wanted them. Now greyhounds have become a rare breed and we don't know when or if we will get any more. At this time due to an impossibly long waiting list, we are not accepting and NEW adoption applications. Many greyhound adoption groups have already shut their doors or have switched to other breed rescue. We have decided to remain open to support the greyhounds we have already placed and to help re-home greyhounds placed through our group and others that are no longer in business.
If you are already approved and have adopted from us before please fill out this form so we have your current info and can add you to the waiting list. We will contact you IF we have a greyhound that would be a good match.
Greyhound Crossroads Adoption Requests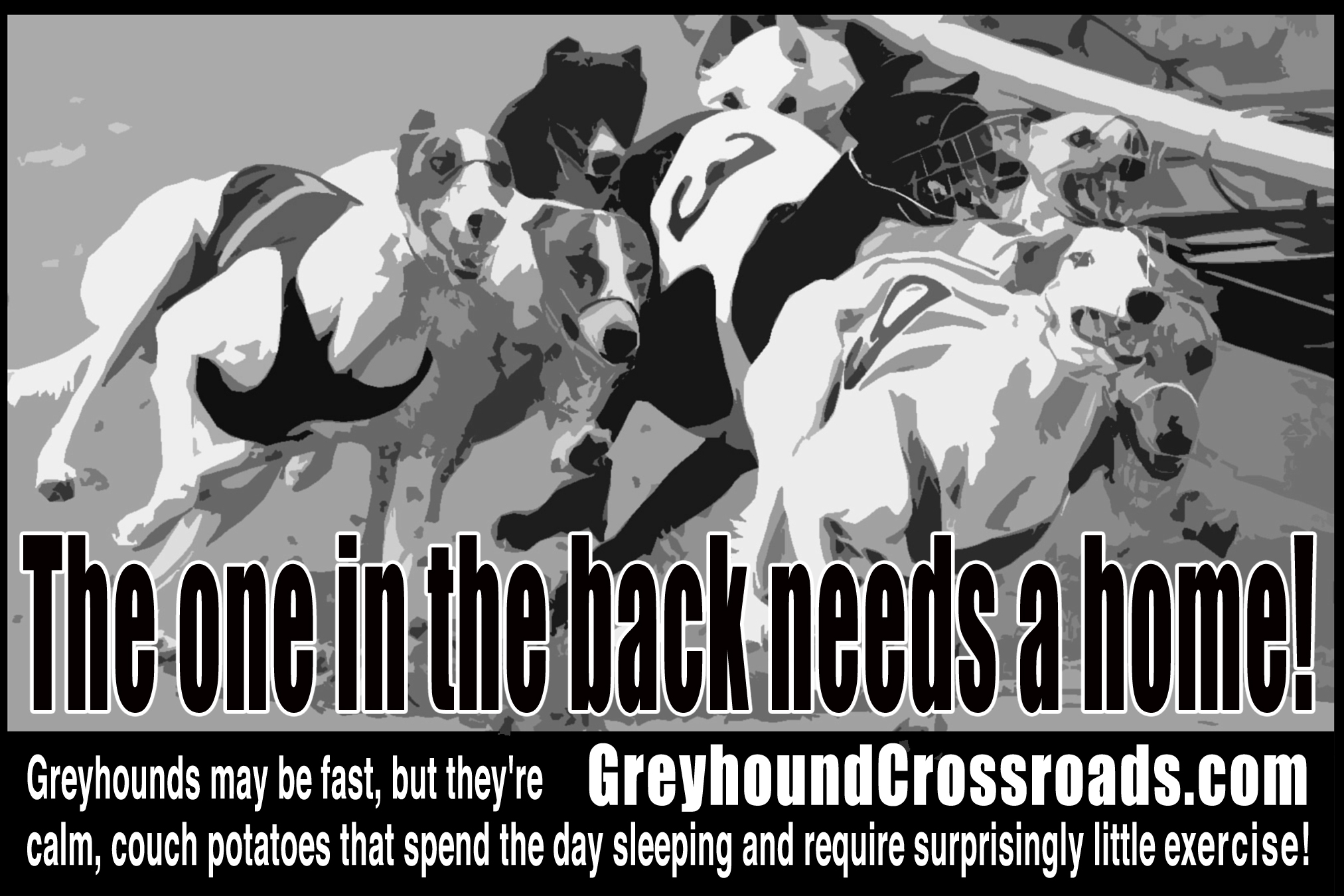 This page is intended to give you a serious look at the steps to adopting a greyhound. As much as we love greyhounds, we also recognize the simple truth that they aren't for everyone. Please read this page and the other information under the "Adoption" heading. There is more under the "Info" heading too. We believe that the better we educate you, the better adoption experience you and your greyhound will have. You should be able to find the answers to most of your questions on our website and our adoption reps will be glad to answer questions you still have.
Have you watched this video with the basics of greyhound adoption yet?

Step 1: Choosing to adopt Consider the question "Does a greyhound fit my lifestyle and desire for a family companion?" We encourage you to research by reading books (we recommend Greyhounds For Dummies by Lee Livingood), asking questions of adoption group representatives, or talking to folks who have adopted already. Living requirements for greyhounds are really the first major things to consider. Most groups consider these the first three big requirements for adoption. Our volunteers have started calling these "The Big Three"..
Greyhounds must be kept as inside pets. This is for two main reasons: 1) Their lack of body fat and short coat cause greyhounds to be sensitive to extremes of temperatures either hot or cold. With little padding or insulation they don't do well laying on the hard cold ground either; and 2) they will pine away without you because your family becomes THEIR family.
Greyhounds must be kept leashed or fenced whenever outside. This is for one very good reason - they LOVE running!? They have been bred to run and chase for thousands of years. They have not been bred to look to humans for direction like other some other breeds. They run so fast that you only have one or two chances to call them back before they are out of earshot. Only greyhounds that are incredibly focused on racing and winning are ever bred. A running greyhound will not look out for his own safety and can run into traffic. They often can't find their way back home if they do survive the roads. Said in hard plain fact, a loose greyhound is a dead greyhound most of the time.
Greyhounds must never be kept chained or tied up. While we don't think it's fair to chain dogs anyway, greyhounds can literally break their necks on a 10-foot chain. They reach full speed at three strides. That means that they can be moving at the speed of 40+ miles an hour when they hit the end of the chain. That would be BAD. Another terrible way to end a splendid life.
More info on things to consider before you adopt

Step Two: Choosing your group...
As you consider adoption, we believe this is one of the first most important steps in making it a successful one. In the beginning of the adoption movement, foilks were lucky to find a group within a day's drive of their home. Thank goodness, in today's world there are many more groups out there all working towards the same goal. All groups will choose to do things a bit differently, though...organize differently, have separate criteria for adoption, are larger or smaller, use kennels or foster homes etc. At Greyhound Crossroads we realize that every family is different, too, and your choice of adoption groups should reflect that, particularly for first-time greyhound owners who usually have more questions in the beginning. We think there are so many greyt reasons for choosing the group first!
Making the best match - the group that knows you, your family members, and your lifestyle the best will be the best equipped to help you make the best choice among the dogs available.
Repeat adoptions - adding another dog to your family pack can be very successful or not, depending on the personalities of the dogs you're mixing. A group that knows all the dogs in your home is best able to judge and evaluate this factor. Repeat adoptions happen a lot in greyhounds!
Support after adoption - The more comfortable you are with your group, the more likely you are to seek assistance when you need it. Choose a group you feel relaxed with and become a part of the family - your hound will love it, too.
Involvement before adoption - Even before you choose your greyhound, families would, until Covid, participate with their chosen group in local activities. This allowed families to become acquainted with more involved members, gave them time to learn from others experience, and helped ease the transition into greyhound ownership. Depending on Covid restrictions, the group you select, may have public events you can assist with, a forum for members to share knowledge, members activities, or even play groups where you can go meet the greyhounds!
We encourage every family to talk to the various groups in their area: ask questions, review their goals and stance on issues that are important to you. Speak to members already involved in that group - and in the end find the group you'd like to devote your efforts to. We feel that helps ensure the adoption process runs as smoothly as possible. After all, when you choose to adopt a greyhound, you're really joining a group of folks that can help you along the way.

Step Three: Choosing your greyhound...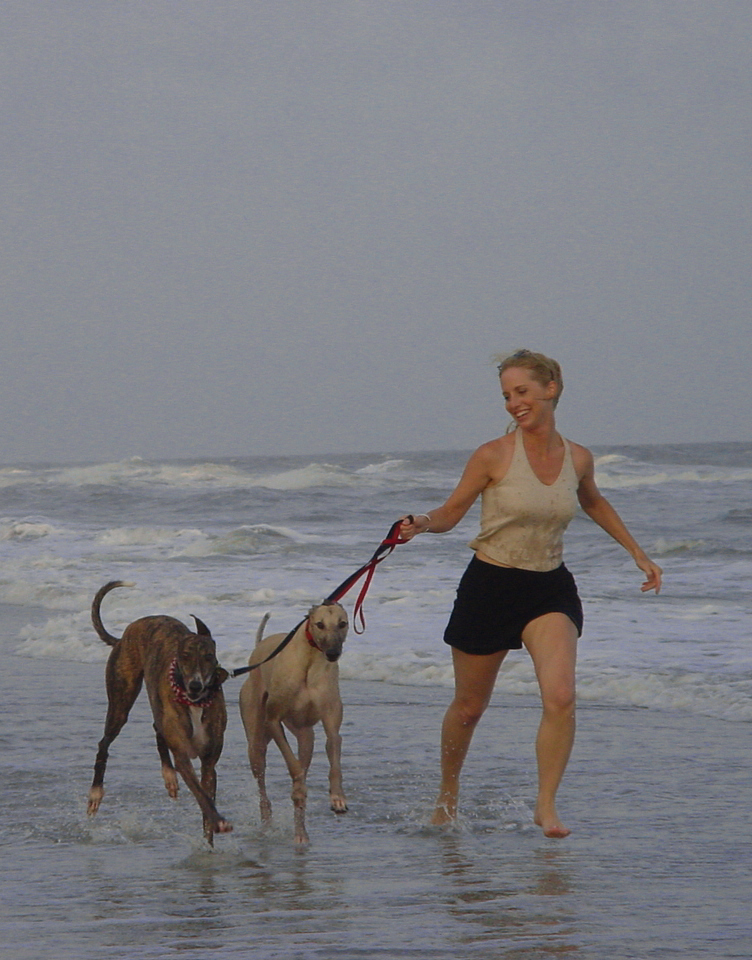 After coming this far, you'd be ready to proceed to the fun part! Congratulations - you've done all of your research and you're sure that a greyhound companion is perfect for you. The actual adoption process includes:
The Application - this form helps us determine if one of our current greyhounds would work in your home. Due to the track closures and lack of available greyhounds, there may not be a greyhound that would work for you. You will only be contacted back when/if we have a potential match for you: Greyhound Crossroads Adoption Request

The Dogs - At this time we have few greyhounds available and we don't expect to get many more in due to most of the tracks in the country being closed down in 2020. Please check out our Available Hounds page to see what we do have available. Dogs that are listed as 'in process' have someone coming to meet them, but still may be available later. Dogs listed as Pending are not usually available.
The Welcome Visit - Due to Covid 19 we are limiting home visits for new adopters to only people that have a likely greyhound match already and are actually ready to complete the adoption process.
The Adoption Donation - The retired racing greyhound that you choose to adopt is free. However, there is a required adoption donation of $325 to help us continue the work we do. This helps to cover the cost of all the medical work that is completed on your dog after it arrives in our program. Our standard work includes spay or neuter, heartworm test, de-worming, vet wellness exam, nail trims, grooming and dental inspection with cleaning whenever necessary (most dogs get a full dental). Additional financial assistance from families who wish to do so is very much appreciated, but absolutely not required or expected. Often the needed medical work on our dogs rises to $500 or $600 which must be covered with fundraising and other activities.
The Online Forum and Facebook Group - We maintain a Facebook group for GC members as a great way to make contact with everyone in the group. This provides a place for asking questions, sharing good times and bad, or getting help in emergencies.
The Adoption - By this point you've done your homework and done a great job! You've gained a group of friends for support, chosen the best match for your family, and experienced the thrill of learning a whole new way of looking at dogs. The day finally comes and your companion changes your life forever. : )
How to choose the best greyhound for your family
Fun Greyhound Fact!
The 1, 2, and 3 number boxes you see above are 'blanket colors'. Typically greyhound races have 8 starting boxes, and each greyhound wears a racing jacket displaying it's box number just like jockeys and their mounts do. These colors are standardized, with the only addition that some tracks use an additional number nine.

SaveSave
SaveSave
---