Speakers and Greyhounds for Your Event
Greyhound Crossroads provides speakers and greyhounds for events! We believe education is important and getting our greyhounds in front of a wide audience is a way to educate the public about the breed. Greyhounds are unique, fascinating dogs because of their breeding for thousands of years for speed and hunting; and also, because of their unique upbringing and training for racing. Misinformation about the breed is everywhere on the web and is even spread by well intentioned adoption groups and shelters. What people think they know about the breed is often not true at all. How many of these have you heard or read about greyhounds?
Greyhounds are high energy dogs..... False!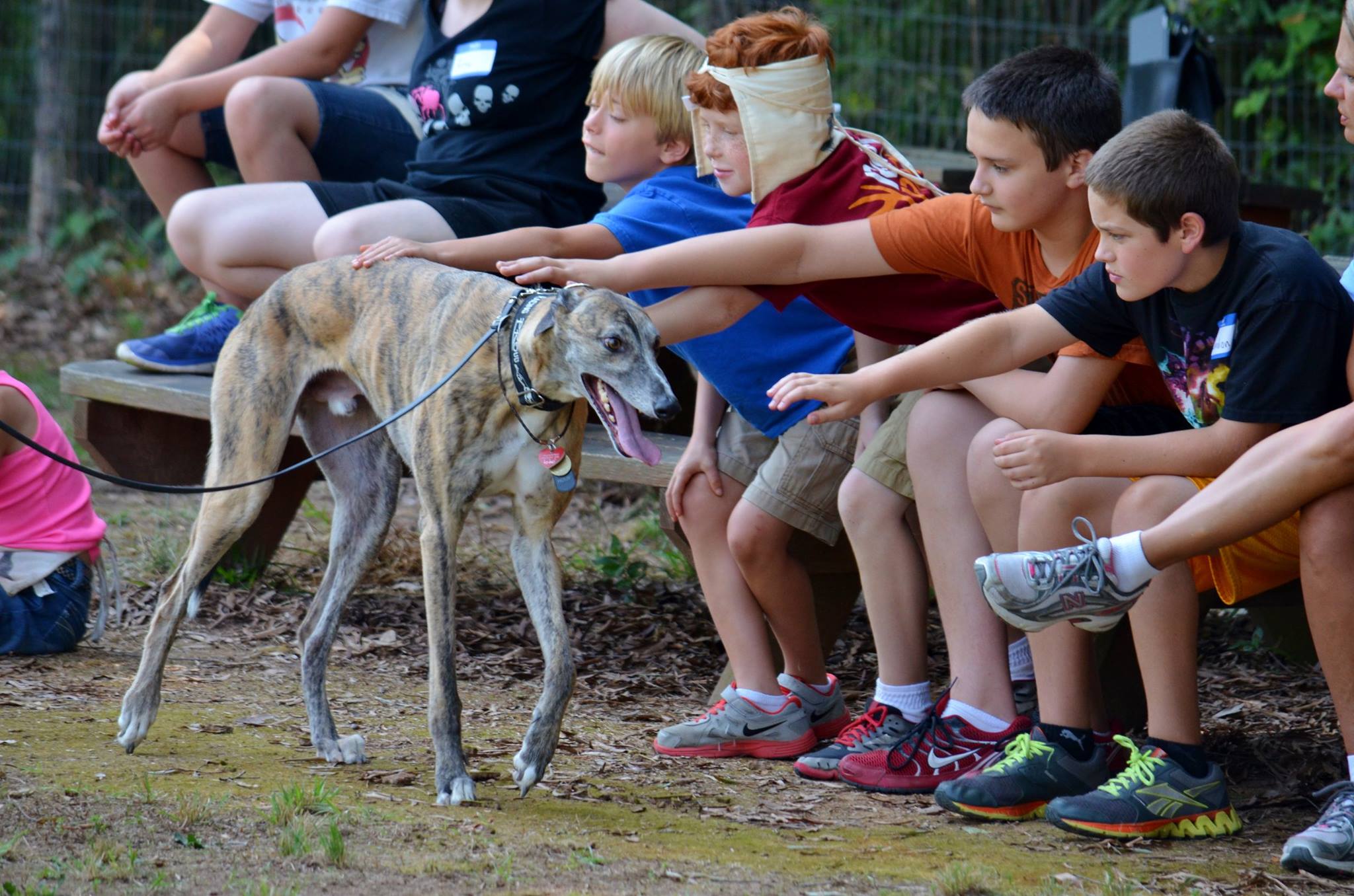 Greyhounds are high strung, nervous dogs.... False!
Greyhounds are all abused at the track....False!
Greyhounds are shy and not very social......False!
Greyhounds are very difficult to train.....False!
Greyhounds are old and/or worn out when they retired from racing....False!
Greyhounds need large fence areas to run and can't live in apartments... False!
Greyhounds can not live with cats and small animals....False!
Greyhounds are forced to race.... False!
Racing greyhounds are the fastest dog on the Planet and one of the fastest land animals. They are one of the few breeds bred entirely for a job instead of appearance. Their working lives and upbringing is different from the typical pet or shelter dog and can actually make them easier to deal with than the average pet. Although racing is winding down now and greyhounds are becoming very rare breed, they are still a fascinating breed with a very interesting story.
Our speakers have been working for many years in greyhound adoption and have personally been to greyhound farms, tracks, and racing kennels, so have first hand experience with all aspects of greyhound life. Some of our speakers have a dog training background and most have fostered hundreds of greyhounds over the years. We have a professional photographer and former radio personality that is comfortable in front of 5 people or 5,000. A couple of our speakers are performers with the Hounds Of East Fairhaven - which is a Renaissance historical reenactment group that performs with their hounds at the GA and Carolina Renaissance Festivals, so are comfortable doing costumed events for children or adults in Renaissance, Medieval or Viking attire.
Greyhound Crossroads has provided speakers and greyhounds for:
TV and Radio
Print Ads
Promotional Events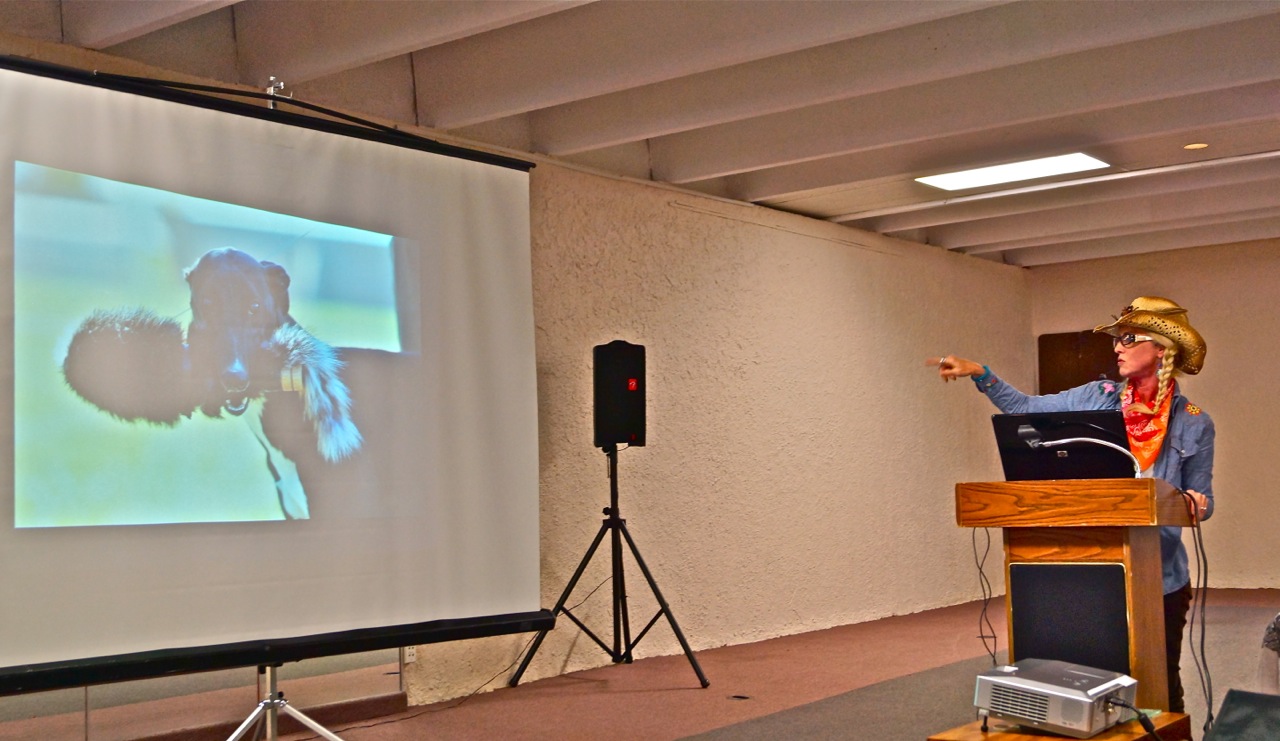 Greyhound Events
Adoption Events
Dog Events
Dog Clubs
Schools
After School Programs
Dog Shelters
Summer Camps
Church Groups
Chamber of Commerce Events
Festivals
Medieval and Renaissance Festivals
We have a variety of presentations available and most can be tailored for any age from 5K through adult. These are positive, fun presentations that are appropriate for all age groups. We can bring greyhounds too! Some of our greyhounds are obedience trained and know tricks that will amaze your crowd. If you have a large, safely fence area we can even demonstrate the speed of a running greyhound. Here is a sample of our topics:
Greyhounds from Birth through Retirement - Covers birth, typical upbringing on farms, and race training. Lots of adorable puppy photos! This is our most popular seminar!
Retired Racing Greyhounds as Pets - How they are different than any other breed and why they make one of the most fantastic pets.
Greyhound Crossroads - what we do as adoption volunteers. From transport to training an adult dog that has never been in a home and how we promote greyhound adoption. Perfect for promoting volunteering in children and informative for adoption groups of any breed.
Dog Safety for Children - How to approach dogs safely and how to avoid problems with loose dogs. Important safety information for children!
Greyhounds in Renaissance Times - Some of our volunteers and hounds are performers at the Georgia and Carolina Renaissance Festivals. We will come in Renaissance dress to your event to talk about the importance of greyhounds in Renaissance times. Hint: Greyhounds were not looked on as dogs, they had a value above peasants and until the laws were changed by Queen Elizabeth, only nobility could own this breed!
Greyhound Racing and Training- Greyhound Crossroads works closely with the racing trainers, owners and breeders and have access to farms and racing kennels in several states. There is a lot of misinformation out there about racing greyhounds and their lives. This is a fascinating powerpoint based on our first hand experience with lots of photos from behind the scenes. Find out the truth about modern greyhound racing and training! Lots of puppy pictures!!
Lure Coursing - A sport originally just for sighthounds, that were bred to chase and run. Now this fun sport has been opened to all breeds! Information on AKC and ASFA coursing. Conditioning and training. Also information on LGRA and NOTRA straight and oval racing, which are similar ways to keep your dog in shape and busy.
Cat and Small Dog Testing and Training- Great for greyhound and dog events! Tricks to introduce an adult dog with a higher than average prey drive to cats and small animals successfully. There are many things you can do to help your foster and give it a chance to succeed. Not only how to introduce, but how to work with dogs after the initial introduction to keep everyone safe.
Photographing Your Adoptable Dogs - Photos sell! A professional photographer showing how to take better pictures of your adoptable dogs! Powerpoint with basic posing, natural lighting and background tips that anyone with a cell phone can use to get great photos of dogs. No special equipment necessary. Take great photos that show how beautiful your adoptable dogs really are and capture their unique personalities.
Greyhound Puppy Farms - Greyhound puppies are rarely available to the public. Few people have ever seen a greyhound puppy because of this and fewer still have ever seen a greyhound farm. Fascinating look behind the scenes at large greyhound rearing facilites around the country. Powerpoint with lots of cute puppy photos! Greyhound puppy farms are NOT puppy mills like many people assume. These elite athletes need specialized care and exercise to be able to run competitively. Another popular presentation!
Identifying Greyhound Mixes in Shelters- Perfect for Shelter employees and volunteers. Interesting information on how to tell if a dog could actually be a greyhound mix. Find out why true greyhound mixes are very rare. Most we see on Pet Finder labeled as "greyhound mixes" are not greyhound mixes at all.
Teach Your Greyhound To Sit - Perfect for greyhound events! "Sit" is not a behavior most greyhounds do naturally because of the way they are built. Greyhounds CAN learn to do it, but it is often the hardest obedience command for greyhounds to master. Typical methods used to get a "sit" with other breeds aren't successful with greyhounds, but we know some tricks that will help.
Fostering 101- Information on fostering greyhounds specifically, but the information can also be helpfull with any breed. Tricks to make fostering easier, what to expect, and tips we have learned over the years.
Solutions to Greyhound Behavior Problems- They typically make great pets, but even sweet greyhounds can develop unwanted behaviors. Methods we have found successful to solve problems and keep them from developing in the first place.
Greyhound Trick Demos - Greyhounds are very smart. One of our current tricksters can demonstrate between 30 and 50 commands. We have greyhounds available for TV, commercials, print ads or movies!
To find out more about scheduling a seminar for your event please contact Joanne Johnson.
---