Our Mission
Every Greyhound in the Right Home ~ Every Home With The Right Support!

Our Vital Statistics
Date of Origin: December 19, 1997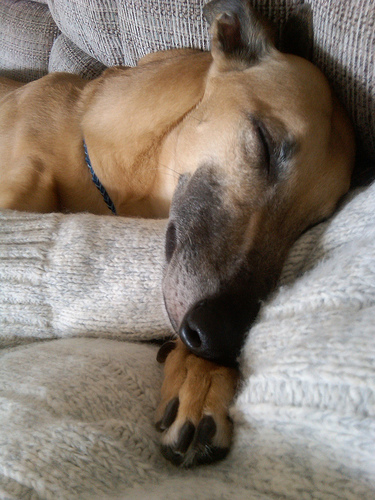 Date of Incorporation: September 9, 1998
Number of Adoptions: well over 1700 at last update
Number of Foster Homes: around 25
Number of Available Dogs: around 17
Origin of dogs: Primarily Florida and Alabama Race tracks with a few coming from Kansas farms and West Virginia Tracks.
Locations Covered: State of South Carolina and bordering areas of Georgia, Tennessee, and North Carolina. Special adoptions to farther areas including Florida, Indiana, Missouri and Virginia.
Adoption Fee: $250
Primary Group Vets: Dr. Jenifer Dixon DVM & Staff, Clinton Animal Hospital, Clinton, SC (864) 833.2487 and Dr Paula Watkins Chinquapin Animal Hospital Greenwood SC.
Satellite Vets: Charleston, Greenville, Charlotte, N. Myrtle Beach, Myrtle Beach, Florence, Anderson and Augusta, Georgia.
Average Adoption Wait Period: 1-2 weeks
Tax Status: SC incorporated non-profit charity since 1998; 501C3 Federal Tax Exempt as of December 21, 2004.
W
hat does

GC stand for?
We Believe:
In helping every greyhound who needs us, regardless of place of origin, we place AKC show greyhounds as well as retired racers and dogs that never race.

In the equality of love, without discrimination to race, creed, national origin, or belief.

In the formation of a group based on support, guidance, and fun for all members.

In knowing each of our prospective families & each of our available dogs, then to the best of our ability make the best possible match.

In creating a warm, friendly group for our families to stay in touch & grow together.

Providing an opportunity for every member to be involved as much as they wish, using their own skills, abilities, and resources.
What is the official GC opinion on Racing?
We are Pro-Greyhound, Racing Neutral, Anti-Abuse
Through the years at GC, we have come to the realization we can do more good by working WITH the racing industry. Our first greyhounds came from people within the racing industry that believed greyhounds should be pets after retirement and made it happen. We've built up a good working relationship with owners, trainers, farms and kennels in FL, and many other states, believing this gives us the opportunity to help greyhounds in the best way possible. By working with the people that own, race and raise greyhounds we get valuable information about the dogs from the people that know them best. We encourage our volunteers and members to do their own research and form their own opinions about racing. We schedule educational trips to tracks, racing kennels and farms so people can form their own opinion based on facts and personal experience rather than rumors. Among our members we have families who regularly attend races, people that own racing dogs and people who don't care for racing. Our official stance is "racing neutral". We are against abuse, wherever it happens, and for greyhounds, wherever they are found. As such we accept all NGA (National Greyhound Association) greyhounds, as well as AKC dogs, with equal welcome regardless of their original location or previous adoption history.
We Have Participated In:


Spring Festivals in Spartanburg and Greenwood, SC
Carolina Renaissance Festival in Charlotte, NC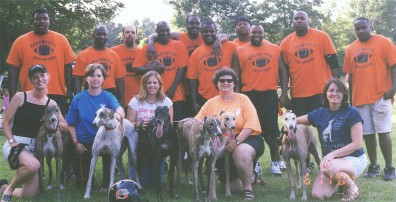 Georgia Renaissance Festival near Atlanta GA
Harley-Davidson of Greenville for their Annual Anniversary
Upstate Companion Animal Festival in Spartanburg, SC
Local Christmas and St. Patrick's Day Parades
Pet Smart in Columbia SC
AKC Dog Shows in Spartanburg and Greenville, SC
Humane Society Pooch Parade in Anderson, SC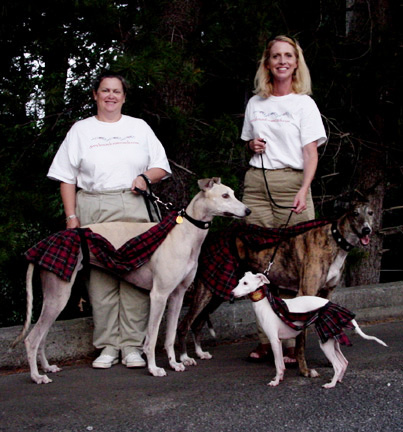 Obedience and Agility Training Events
Weekly Farmers Market in Augusta GA
Piedmont Tech College Volunteer Celebration in Greenwood, SC
Home Football Game Meet and Greets in Clemson, SC
Pet Store grand opening celebrations
Star Fort Annual Candlelight Tour in Ninety-Six, SC

Wellness Celebration in Greenwood, SC
Greenwood Humane Society Pet Expo in Greenwood, SC
Greenville Humane Society Grand Opening in Greenville, SC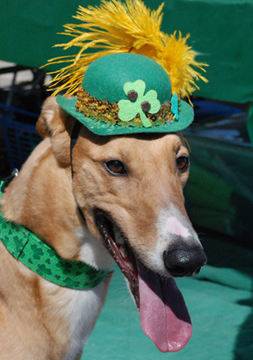 International Festival of Clemson in Clemson, SC
Return to the Green Irish Festival in Greenville, SC
Great Scot Parade in Greenville, SC
Pet Fest America/Superdogs at the BiLo Center in Greenville, SC
Howlin Hounds 5K in Augusta GA
Annual Pet Expos in Greenwood, SC
St. Francis Pet Blessing annual celebrations
Official Mascot of the Greenville Greyhounds Football Team
Freedom Weekend Aloft in Simpsonville, South Carolina
American Biker Grand Opening in Greenville, SC
Spring Fling, Man's Best Friend Resort in Greenville, SC
---