I Found A Greyhound
I Found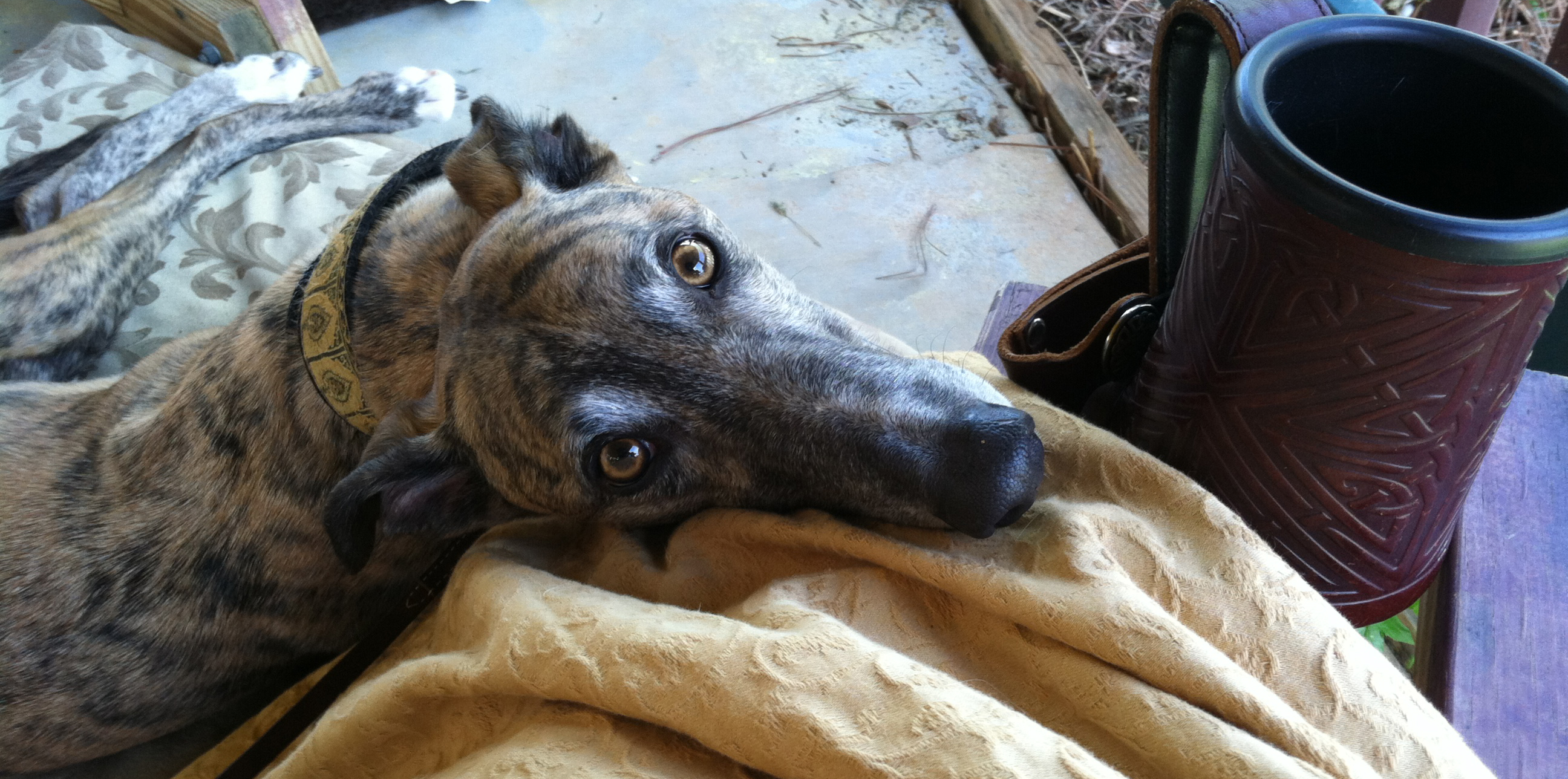 A Loose Greyhound found greyhound, help greyhound, lost greyhound, what do I do with a greyhound I found, greyhound tattoos, greyhound
If you find a lost greyhound, your best bet is to call the area greyhound adoption groups and the racetrack, if there is one in your area. Most racetracks have on site adoption groups that will take in any greyhound, even if it never raced at that track. Please don't assume that the greyhound you found has been neglected or abused, even if it is in very poor condition. Greyhounds are very skinny dogs that can look horrible after just a day or two on the lam. They have thin skin that scars easily so scars and injuries are not generally signs of abuse. Keep calling groups until you find someone that can help you, even if you have to call groups out of state. Keep the greyhound indoors or (in nice weather) a safely fenced yard until you reach someone. Please do NOT turn the greyhound loose, tie it up or turn it into a kill shelter.
The greyhound community is large and organized. Once the word gets out that there is a greyhound in need, a group WILL take the dog quickly and find its owners or rehome it. Please do NOT take the greyhound to an all breed shelter except as a last resort. Here is an excellent online resource for greyhound adoption groups near you.
http://www.adopt-a-greyhound.org/directory/list.cfm
If you found a greyhound in Georgia, South Carolina or North Carolina please email the people on our area representative page AND call the number at the bottom of all pages on our website and leave a message.
Important info to have on hand when you call a greyhound adoption group:
Number on rabies tag (if present)

Male or Female

Neutered or Intact (if known)

Color - The most common color for greyhounds is brindle (orange and black stripes or gray and tan stripes) but greyhounds come in black, fawn (tan), red, white, gray and white with spots of any of the other colors too. Unless the rest of the dog is white, a greyhound with an all white face is usually an older dog. Also good information to pass along.

Make sure it is really a greyhound. Greyhounds are typically from 50 to 90lbs in weight. If it looks much smaller than that it may be a whippet (25 to 40lbs) or even an Italian greyhound which is the toy version and weighs only 8 to 20lbs.

Take a few photos of the dog with a cell phone. One from the side and one of its face that you can email or text to an adoption rep.

Have the dog checked for a microchip. Most vets or shelters can do this for free for you. This can be done after you call an adoption group.
How To Read Ear Tattoos
Most greyhounds are former racers and were tattooed at 3 months of age in both ears. There is a database with every greyhound's ear tattoos in it, so providing this information to the adoption group will allow them to identify the dog you found. As greyhounds age the tattoos can fade and get harder to read. Shining a flashlight through the ear from behind, trimming ear hair and rubbing the tattoo with a little olive or corn oil can sometimes make the tattoos easier to read. If there are no tattoos the greyhound was not a racer and may be from show, hunting or pet bloodlines or may not be full blooded.
For racing greyhounds born in the US, the Left Ear: should have a 5-digit litter registration number- these will all be numbers. Right Ear: should have 2 or 3 numbers followed by a letter. The first one or two numbers in the right ear are the month the dog was born in so would be numbered 1 thru 12. The last digit is the year of birth 0 thru 9. 23C would mean the dog was born in Feb of 2013 or 2003 and was the 3rd dog of the litter tattooed. 101E would mean the dog was born in Oct of either 2001 or 2011 and was the 5th dog in the litter tattooed. If you can't make out all the numbers just get as many as you can and write them down.
If you would like to try looking up the greyhound yourself on the database just go to our Greyhound Database page that explains how to do it. A lot of greyhounds have the adoption group that placed them listed on the database. Unfortunately not all adoption groups put this information in when they place a dog. Sometimes there is contact information for the pet owner of the dog but in most cases it goes to the previous racing owner of the dog. So doing a tattoo search may still not lead you to the greyhound's current adoptive family. A greyhound adoption group has other resources as well so it is always best to contact them.
What To Do If The Greyhound Needs Medical Care
Unless the greyhound you found requires emergency care, contact a greyhound adoption group BEFORE taking it to the vet. Greyhounds have unique medical needs, and a vet not familiar with the breed can have problems with anesthesia and reading test results. It is best to have a greyhound adoption group tell you where to take the dog, except in emergencies. This is also why it is better to get assistance from a greyhound adoption group, rather than keeping the dog, giving it to a friend or taking it to an all breed shelter.
Please don't assume that the greyhound you found has been neglected or abused, even if it is in very poor condition. We have had people that found greyhounds that were afraid to turn the dog over for fear that the dog was neglected or abused. Greyhounds are very thin dogs to begin with (tips of hipbones and 2 or 3 ribs should show in a greyhound at the proper weight). Just a couple of days lost, without access to food, will make a thin greyhound appear skeletal. A greyhound that is lost just a week can be close to starvation. Fleas and ticks can be picked up as soon as the dog gets loose. Greyhounds also have very thin skin that is injured easily by thorns or rough play. Even the most pampered greyhounds develop some scaring over the years, so it is not an indication of abuse either. In most cases the greyhound's family is searching for their dog and is worried sick.
---